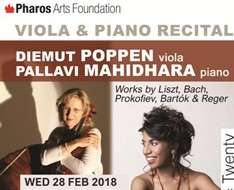 DIEMUT POPPEN viola
PALLAVI MAHIDHARA piano

Diemut Poppen, one of the most outstanding violists in the world and resident artist of the International Pharos Chamber Music Festival, returns to Cyprus for her first recital at The Shoe Factory in Lefkosia, in which she will team up with the exceptional young pianist Pallavi Mahidhara, prize winner in the 2014 Geneva International Piano Competition and the VI International Prokofiev Competition in Saint Petersburg. For this rare viola and piano recital, which will take place on Wednesday 28 February, the two artists will present works by Bartók, Prokofiev, Liszt, Bach and Reger.

Venue:
The Shoe Factory
304 Ermou Street
Lefkosia, Cyprus

Tickets:
15 Euro / 10 Euro Concessions & members of the Pharos Arts Foundation,
Box Office: Directly from the Foundation's website www.pharosartsfoundation.org or Tel. 9666-9003 (Monday - Friday 10:00 -15:00)

Information:
Pharos Arts Foundation Tel. +357 22 663 871 / www.pharosartsfoundation.org

PROGRAMME:
J.S Bach: Suite No.2 in D minor, BWV 1008 for Viola solo (originally Cello)
Max Reger: Five Songs, Op.98 (arranged for Viola & Piano by Diemut Poppen)
Franz Liszt: Liebesträume No.3 (Nocturne for Piano in A-flat major)
Franz Liszt: Grandes Études de Paganini No.2 & No.3 , S.141
Béla Bartók: Fantasie - Concerto for Viola & Piano
Sergey Prokofiev: Selections from Romeo and Juliet, Op.64 (arr. for Viola & Piano)

PALLAVI MAHIDHARA piano
Widely recognised for her artistic versatility, Pallavi Mahidhara combines mature musical insight, an astounding technique, and a charismatic stage presence. She has appeared in recital and as a soloist with orchestras all over the world, in venues such as, Kimmel Center in Philadelphia, Kennedy Center in Washington DC, Chicago Symphony Center, Verizon Hall in Philadelphia, Auditorio Nacional de Música in Madrid, Teatro del Lago in Frutillar / Chile, Casa de la Música in Quito / Ecuador, National Centre for the Performing Arts in Mumbai, National Concert Hall in Beijing, City Hall Concert Hall in Hong Kong , City Hall in Cape Town, Monnaie de Paris, Salle Molière in Lyon, Victoria Hall in Geneva and the Grand Hall of the Dimitri Shostakovich Philharmonia in Saint Petersburg.

Pallavi Mahidhara is the Second Prize winner and Young Audience Award winner of the 2014 Geneva International Piano Competition. She also won the Second Prize at the VI International Prokofiev Competition in Saint Petersburg, in 2012, and she has been a winner of the Steinway Förderpreis in Berlin, the Astral Artists National Auditions in Philadelphia, on multiple occasions, has received the "Sobresaliente" Award from the hands of Queen Sofía of Spain. In 2008, she was awarded the Fourth Prize, the Audience Award, and the Prize for "The Best Romantic Concerto" at the UNISA International Piano Competition, and at the age of 15, she won the "Most Promising Young Pianist" award at the prestigious Verbier Academy in Switzerland, and received a $25,000 Davidson Fellowship for her extraordinary achievements in the field of music.

Pallavi Mahidhara made her orchestral debut at the age of 10, performing Mozart's Piano Concerto No.21 at the Ravinia Festival in Chicago. Her first appearance with a major orchestra was at the age of 14 with the National Symphony Orchestra in Washington, DC. She has performed as a soloist with major orchestras around the globe ever since, and has been returning almost yearly since 2008 to South Africa, performing solo and orchestral concerts throughout the country. In May 2015, Mahidhara made her Russian debut with the Saint Petersburg Symphony Orchestra in the Grand Hall of the Dimitri Shostakovich Philharmonia.

Mahidhara's musical interests cover an extensive range, spanning from the classical to the contemporary repertoire and further. She has collaborated with the multi-Grammy Award-winning ensemble, Eighth Blackbird, with several performances of Steve Reich's Double Sextet, with the Curtis 20/21 Contemporary Ensemble in Messiaen's Oiseaux Exotiques and she has often collaborated in chamber music with members of the New York Philharmonic, the Academy of St. Martin in the Fields, the London Philharmonic, and the Vienna Chamber Orchestra. Pallavi Mahidhara has participated at such renowned festivals as the Prague Spring Festival, the Marlboro Music Festival, the Encuentro de Música y Academia de Santander (Spain), Pablo Casals Festival (France), International Musician's Seminar at Prussia Cove, the Verbier Academy, the Aspen Music Festival, and the Banff Festival (Canada).

Pallavi Mahidhara studied at the Escuela Superior de Música Reina Sofia under the tutelage of Dimitri Bashkirov. She graduated from the Curtis Institute of Music in 2010 with a Bachelor of Music in Piano Performance, as a pupil of Ignat Solzhenitsyn, and completed a Master's Degree at the Hochschule für Musik Hanns Eisler under Eldar Nebolsin.

DIEMUT POPPEN viola
Diemut Poppen is one of the most outstanding violists of her generation. Born into a well-known musical family in Germany, she started playing the violin at the age of seven, giving her first concerts as a soloist at the age of nine. She learned several instruments of which the viola became her favorite. Diemut studied in Düsseldorf, Aachen, Cologne, Berlin, Bloomington (USA) and Paris. Amongst her teachers were the finest violists of our time: Yuri Bashmet, Kim Kashkashian, Bruno Giuranna, Hariolf Schlichtig and Peter Schidlof of the Amadeus Quartet. Diemut Poppen has been awarded several scholarships and prizes, among them the Studienstiftung des Deutschen Volkes and the renowned European Music Prize.

Nowadays, Diemut Poppen is one of the most sought after violists in the world. She has performed as a soloist under the baton of conductors such as Heinz Holliger, Frans Brüggen and Claudio Abbado and she has appeared as a soloist and chamber musician in venues such as the Barbican Centre, the Queen Elisabeth Hall and the Wigmore Hall in London, Carnegie Hall in New York, Philharmonie in Berlin and Mozarteum in Salzburg.

Diemut Poppen was co-principal in Lucerne Festival Orchestra under the direction of Claudio Abbado and principal viola and a founding member of The Chamber Orchestra of Europe. She was Artistic Director of several chamber music festivals and she has been invited by a number of well-known musicians to participate in their festivals – amongst others – Claudio Abbado, Leonidas Kavakos, András Schiff, Gidon Kremer, Natalia Gutman. She is currently Artistic Director of the Cantabile Festival Lisboa and Rigi Musiktage in Switzerland.

Poppen's repertory is exceptionally wide. It spans from the classical viola concertos to all combinations of chamber music as well as contemporary music. Several composers have written new pieces for her, solo as well as concertos, sonatas and chamber music.

Diemut Poppen is Professor for Viola and Chamber Music in Detmold, at the Escuela de Musica Reina Sofia in Madrid and at Hemu Lausanne. She has recorded for Deutsche Grammophon, Capriccio, Live classics, EMI, Tudor, BIS, Dakapp, Ondine, amongst others.

Wednesday, February 28, 2018, 20:30

Nicosia

/

Lefkosia Municipality

,

Cyprus