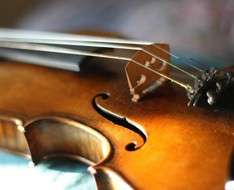 The Paphos Music Lovers Association Winter Festival presents a violin - viola and violin duo concert, with Sorin Alexandru Horlea (violin, viola) and Savvas Lagou (violin) at Technopolis 20 in Pafos, on Tuesday, 13th of November, at 20:00.

Venue:
Technopolis 20 Cultural Centre
18 Nikolaou Nikolaidi Avenue
Pafos 8010, Cyprus
Phone: 7000 2420
Website: www.technopolis20.com

Entrance: 12 Euro (with proceeds to the Paphos Music Lovers Association fund to support local arts projects)
Reservations are necessary at 7000 2420 (calls only).

Enjoy a colourful and diverse programme, with works by Mozart, Bartok, Wieniawski, Ysaye, plus some special arrangements by the duo, of Cypriot and Romanian traditional melodies.

The musical aspirations of the two soloists, have led them to explore points of similarity and departure between traditional and contemporary music from around the world, creating a new synthesis represented in their original compositions and arrangements. They combine their folk experience with classical training and interest in jazz harmony, creating a unique style that encapsulates the spirit of the 21st Century.

A few words about the musicians:
Sorin Alexandru Horlea (violin, viola) was born in Bucharest in 1975 and started the violin at the age of 8. He graduated from "George Enescu Music High-School" where he studied under maestro Octav Savitchi and "Ciprian Porumbescu Music University" where his Professor was maestro Daniel Podlovschi. He took part in summer-courses with Viktor Pikaizen and Eugen Sarbu. In 1997 he won the third prize at the George Enescu Childhood Memories contest in Bucharest. During his university studies he played in the "Radio Chamber Orchestra", "Philarmonia Chamber Orchestra" and in Bucharest Opera but mainly in "George Enescu Philharmonic". In 2000 he moved to Lebanon to fulfil his position in Lebanese National Symphony Orchestra", where he became the assistant concert master. In 2005 he moved to Cyprus and since then is a member of the Cyprus Symphony Orchestra. He is also working as an associate teacher of the Cyprus Youth Orchestra. He performed lots of concerts and recitals as a soloist and in various chamber groups in Romania, France, Netherlands, Lebanon and Cyprus. Sorin also performs concerts in other styles including jazz and folk. He is member of "Cyprus String Quartet", also member of folk band "Danube Quartet". He performs regularly contemporary music as he is a resident member of the Avaton Festival and Chronos Ensemble. Sorin is playing on a modern violin by Stephan Sultanian. He has a web page: www.youtube.com/sorinestera where one can listen many samples of his live concerts.
Savvas Lagou (violin) was born in Larnaca in 1991. He began violin lessons at the age of 7 at the annex of the Conservatoire of East Attica in Larnaca where he graduated in 2009. Immediately after, Savvas became the student of Sorin Alexandru Horlea who was his major influence as a musician and violinist. Prior to his studies, Savvas served in the army for two years as a member of the military band (S.M.E.F). In 2011 he studied for one year at City University of London under Magdalena Filipczak. While he was a student there he gained a place to transfer as a second year student at Trinity Laban Conservatoire of Music and Dance. Throughout his studies, Savvas received the "Ludwig Lebell Scholar" and "Marios Tokas" scholarships for a period of three years from the State Scholarship Foundation of Cyprus in 2009. (I.K.Y). At Trinity Laban he studied with Andrew Sherwood. He also had master classes with Philippe Honore, Rivka Golani, John Crawford, Pieter Schoeman, Zsolt-Tihamer Visontay and Remus Azoitei. In April 2014 Savvas performed as a soloist with Somerset Youth Symphony Orchestra followed by two performances with the Cyprus Symphony Orchestra in May 2014. After receiving his LTCL in Instrumental/Vocal Teaching, Savvas had been a dedicated teacher for a year starting September 2015, where he returned to Cyprus to prepare for his MA auditions with his mentor Sorin Alexandru Horlea. From 2016-2018 Savvas was an MA student in the prestigious Royal Academy of Music in London where he studied with Mateja Marinkovic and Jack Liebeck. He also had chamber music coaching with the Doric String Quartet and Levon Chilingirian. Savvas is a co-leader in the first violins of the newly formed Cyprus Chamber Orchestra. He led the orchestra in its first concert performing Bach's concerto for violin and oboe and on various other occasions. On the 30th of April 2017 he participated in the concert "UnitedByMusic Youth" which was a side by side concert with Berlin Philharmonic players in Paphos, Cyprus. Since August 2018 Savvas is a member of The Cyprus Symphony Orchestra in the 2nd violins. Savvas as a member of the Fusionia Duo, has also performed in the Hellenic Centre of London, Synodiko Ieras Mitropolis Kykkou and Wigmore Hall (Trinity Laban students' concert). Finally, Savvas has been working as a professional violinist and singer since 2006 participating in festivals of classical and traditional Greek and Cypriot music in Cyprus, Greece, Belgium, Italy, Romania, Slovenia and London.


Tuesday, November 13, 2018, 20:00 - 23:00

Paphos

/

Pafos Municipality

,

Cyprus