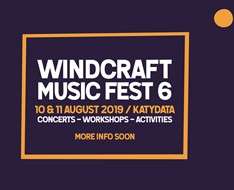 Every August the tiny village of Katydata wakes up to the sound of winds! That's when world music traditions and jazz, topped with some contemporary sounds, meet up at Windcraft Music Fest for a two-day music fiesta, in which the winds have the leading role; where tradition and modernity co-exist; where you can listen to good music and feel good cheer everywhere!

The 6th edition of Windcraft Music Fest will take place on 10&11 August 2019 with a special focus on "street arts". Next to an international line-up of bands that will perform on stage, get ready to experience music, dance and visual arts in every corner of the village, just like arts are found in every corner of our life!

Stay tuned for the final programme of concerts, workshops, screenings and other exciting activities!

Facebook

Location:
katydata village
Lefkosia District, Cyprus
Located 56 km away from the capital, the small village of Katydata can be reached by following the B9 towards the mountainous region of the Solea Valley.

Windcraft Μusic Fest has been organised by the non-profit cultural association Windcraft Loud since 2014 in the village Katydata (Nicosia region, Cyprus) and aims in showcasing the musical work of local and international artists and in involving all visitors in the process of music creation through interaction. The festival focuses specifically on wind instruments and wind players, which are featured in different music styles and combinations.
In unique traditional settings of the Cypriot countryside, such as the yard of an old inn, an orchard, or picturesque village squares, local and international artists and bands present their original music projects, influenced by music traditions of the world. Workshops, walks and other parallel activities invite participants of all ages to take part in the process of music creation and explore the village and its culture through a community building process.
From Saturday, August 10, 2019 -  15:00
To Monday, August 12, 2019 - 01:00

Nicosia

/

Katydata

,

Cyprus