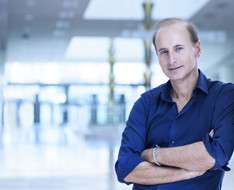 «WITH THE SOUNDS OF NUEVO TANGO»
 
Lefkosia: Wednesday 2 June 2021
Pallas Theatre, Pafos Gate, 20:30
Pafos: Thursday 3 June 2021
Markideio Municipal Theatre, 20:30
Lemesos: Friday 4 June 2021
Rialto Theatre, 20:30
 
Enjoy a programme with the sizzling rhythms and sounds of Nuevo tango, the revolutionary new style of tango created by the Argentinian composer Astor Piazzolla in the mid-20th century. Incorporating elements from classical and jazz music into the traditional Argentinian tango, his work takes us straight to the heart of the most intense human emotions.
2021 marks the 100th birthday of Astor Piazzolla which we celebrate with two of his most representative works: the Four Seasons of Buenos Aires(Estaciones Porteñas)and the mysterious and tense Tangazo: Variations on Buenos Aires.
Originally scored for Piazzolla's quintet (that of course included the bandoneón!), you will hear the Estaciones Porteñasin Leonid Desyatnikov's arrangement for solo violin and strings, interspersed withquotations from Antonio Vivaldi's Four Seasons, thus offering a fascinating connection between the two works.
Our programme also features the world premiere of the Concerto for three guitars by the contemporary Argentinian composer/guitarist MaximoDiegoPujol, following inPiazzolla's footsteps, merges the traditional tango and folk genres with classical forms and styles.
 
Astor Piazzolla: The Four Seasons of Buenos Aires, arr.: L. Desyatnikov for solo violin and strings
Μáximo DiegoPujol: Concierto for three guitars[World Premiere]
Astor Piazzolla: Tangazo: Variations on Buenos Aires
 
Soloist: Νikos Pittas, violin
Cyprus Guitar Trio (Vasilios Avraam, Socrates Leptos, George Christofi)
 
Conductor:Μiltos Logiadis
 
Supporters: Pafos Municipality Limassol Municipality, Rialto Theatre
 
Ticket prices: €12, €7 (18-26 yrs, pensioners), €5 (under 18)
Ticket presales:
For the concerts in Lefkosia and Pafos, online at cyso.interticket.com For the concert in Lefkosia, tickets are also available at the Pallas Theatre Box Office every Wednesday 16:00-19:00. For the concert at the Rialto Theatre, online at
rialto.interticket.com
 - Rialto App and at the Theatre Box Office Mon-Fri 10:00-15:00. Τickets will not be available at the theatre box offices on the concert day.
 
Pallas Theatre, Pafos Gate (Rigainis and Arsinois corner, 1010 Lefkosia, 22 410181)
Markideio Municipal Theatre (Andrea Geroudi 27, 8010 Pafos,26 22228)
Rialto Theatre (Andrea Drousioti 19, Heroes Square, 3040Lemesos, 77777745)
 
For more information you may contact Constantia Elia at 22 463135, email: This email address is being protected from spambots. You need JavaScript enabled to view it.
 
LOCATION
LEFKOSIA, LEMESOS, PAFOS