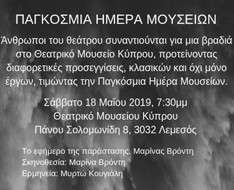 Theatre people meet for an evening at the Cyprus Theatre Museum, proposing different approaches of classical and modern theatrical works, honoring the International Museum Day.

Venue:
Cyprus Theatre Museum
Panos Solomonidis 2 - 8,
3032 Lemesos, Cyprus
Website: www.cyprustheatremuseum.com

Free entrance

For information and reservations call at +357 25 343 464.

Programme of Events:
The epic of the show, Marina Vronti
Direction: Marina Vronti
Interpretation: Myrto Kougiali
How acting acts only as long as the actor is on the stage. Only the poster remains, a suit, ...

Orlando Express, inspired by Orlando, Virginia Woolf
Direction and performance: Giorgos Kyriakou, Thekla Flouri
Interactive performance in which the audience can experience the sex change experience through disguise and through the classic literature.

In the Museum
Direction and interpretation: Costas Silvestros
Costas Silvestros with poems of Konstantinos Kavafis

No I, Samuel Beckett
Directed by: Maria Kyriakou
Interpretation: Loukia Pieridou
A mouth speaks incessantly expressing human existential anxiety.
Saturday, May 18, 2019, 19:30

Limassol

/

Lemesos Municipality

,

Cyprus