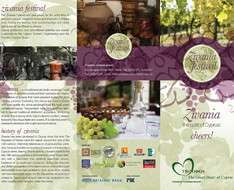 Zivania is a traditional alcoholic beverage made in Cyprus. Is a distillate produce from pomace (or marcs), the residue of grapes. Zivania has been produced in Cyprus since the time The Republic of Venice ruled the island, around the end of the 14th century. Since 2004, Zivania has been protected under the EU regulations as a product unique to Cyprus and as such cannot be produced in any other country and marketed under that name. The festival takes place in Alona and Pelendri villages in two consecutive weekends. It includes distillation of zivania at the venues, promotional kiosks with traditional products, and music and dance programmes. The local sights are open for visitors during the festival.

Dates and Locations:
SUN, 4 NOV / Alona village square
SUN, 11 NOV / Pelendri village square

For further information please call at +357 25 421 020, +357 99 352 547 or +357 99 630 414.
From Sunday, November 04, 2018
To Sunday, November 11, 2018